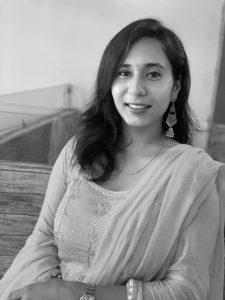 Psychologist Tamanna Grewal

Tamanna Grewal pursued her PG Diploma in Guidance and Counselling (PGDGC) and an M.A. in Applied Psychology from Maharshi Dayanand University with distinction.
She graduated from the University of Delhi with a B.A. (hons.) in Applied Psychology. She's also a registered Graphologist, with a certificate from Akshar Training and Consulting. During her academic years, she worked in clinical, counselling, and organisational psychology domains at a variety of organisations, including rehabilitation institutes (SIRTAR), organizations/working NGO's to improve and increase awareness of mental health (udaan, etc), and private organisations (manoshala, revibe, etc). She has previous teaching experience as a PGT Psychology at Indus Public School. She was also a key member of her college's Counseling team and train students about life skills.
She has a experience of working with students and young adults. She is experienced in assessing and assisting clients with concerns such as relationships, career issues, body image issues, adjustment issues, and general stress. She tends to deliver a combination of person centered, humanistic and behavioral therapies along with mindfulness and relaxation techniques. Her practise vision is to deliver high-quality mental health services while also providing a safe environment in which clients can get culturally competent and holistic wellness-focused therapies in order to improve their overall development and quality of life. She believes that one does not need a particular issue or concern to take therapy.
Everyone can benefit from introspection, emotional support, being provided a space to talk about their feelings and a lot more, which are provided in therapies. She is continuously supporting individuals and organisations in the field of mental health. Now holding space for people through counselling and psychotherapy.
Psychologist Tamanna Grewal